Abstract: SciDataCon 2016 was held on 12–13 September 2016 in Denver, Colorado as part of International Data Week (IDW) 2016. This scientif...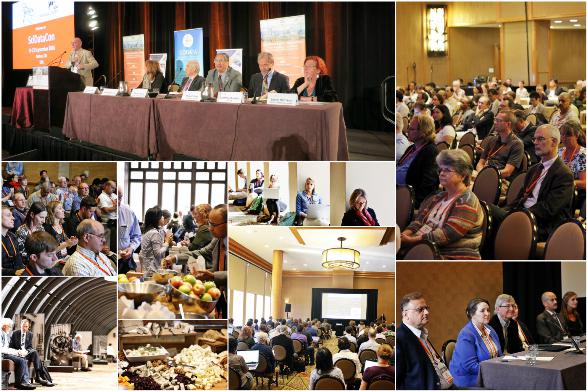 SciDataCon 2016 was held on 12–13 September 2016 in Denver, Colorado as part of International Data Week (IDW) 2016. This scientific research conference advanced the frontiers of data in research by addressing a range of fundamental and urgent issues around the 'Data Revolution' and the recent data-driven transformation of research; exploring the responses to these issues in the conduct of research.
SciDataCon 2016 was part of International Data Week 2016, a major event that brought together all stakeholders who care about the role of data in research—researchers, data scientists, data stewards, data librarians, as well as industry leaders, entrepreneurs, and policy makers—to explore how best to exploit the Data Revolution to improve our knowledge and benefit society through data-driven innovation.
SciDataCon 2016 explicitly aimed at Advancing the Frontiers of Data in [all areas of] Research. The unprecedented explosion in the capacity to acquire, store, and manipulate data and information—as well as to communicate them globally—is world-changing and is causing a major transformation in way knowledge is created. This so-called 'Data Revolution' has led to an increase in data-intensive research and theorizing around Big Data; offering new opportunities to identify patterns and processes in previously unresolvable phenomena whilst simultaneously questioning the fundamental processes by which scientific evidence (data) is managed and scrutinized. New modes of collaboration and coordinated action are thus required to sustain observational and monitoring capacities and to maximize scientific and societal benefits.
How to understand and address such frontier issues of data science was at the core of SciDataCon 2016. Not only is the relationship between the Data Revolution and both broader societal developments and data-driven innovation important to study, but also its transformative effects need to be examined from the perspective of each and every research field. These concerns form a multifaceted challenge that cannot be confronted without the expertise of those in all disciplines and roles in the research enterprise being brought together to form a genuinely global response. SciDataCon 2016 was the internationalplatform to tackle these issues directly and drive forward the solutions.